USMES Members Excel at the Rio 2016 Paralympic Games
Posted 28 Sep 2016 in Press


Team USA concluded the Rio 2016 Paralympic Games with its most successful performances ever in recent history.  289 athletes competed and earned 115 medals, including 40 Gold medals.  With a total of 18 podium finishes, the US Paralympic Cycling Team won the most ever medals at a Games.  US Military Endurance Sports (USMES) is proud to feature key race results from its members who competed on Team USA in the Paralympics.
Oz Sanchez
A native of Los Angeles, US Marine Corps Veteran and now a three-time Paralympian (2008, 2012, 2016), Oscar "Oz" Sanchez, led the way for USMES members at the Rio 2016 Paralympic Games.  He has now earned 6 career Paralympic Medals, and the Rio 2016 Games was his third straight Paralympic Games to medal in the Road Individual Time Trial.
-Silver Medal, H2 Mixed Team Relay with Will Groulx and Will Lachenauer
-Bronze Medal, H5 Cycling Road Individual Time Trial
"We knew we would be stacking in at the number two spot in this race so the strategy was not to lose that spot," noted Sanchez about the Mixed Team Relay event.  "We went out as hard as we could and decided not to take a lot of risks - the race panned out like we expected it to."  - Oz Sanchez
(L to R) Will Groulx, Oz Sanchez and Will Lachenauer celebrate their silver medal win in the mixed team relay H2-5 at the Rio 2016 Paralympic Games.
Photo Credit: Casey Gibson
Scott Martin
US Marine Corps Veteran and Purple Heart Recipient, Jeffrey "Scott" Martin competed in his first-ever Paralympic Games in Rio.  Overcoming injuries sustained from 2 separate incidents where his Humvee rolled over an improvised explosive device, Scott has experienced a high level of success as a cyclist on Team USA.  On his birthday in Rio, he advanced to the bronze-medal final of the C4 4,000-meter individual pursuit on the track.  The race proved to be very close, with less than 2.5 seconds separating third from fourth.  In the end, Scott finished in 4:47.549, just behind Colombia's Diego German Duenas Gomez in 4:45.310.
-4th Overall, C4 4,000-meter Individual Track Pursuit
"This was a great little birthday gift to get into the finals and it's awesome to have my birthday here at the Paralympic Games in Rio.  It hurts to miss out on a medal, but that's the name of the game and I'm just going to look forward now." - Scott Martin
Scott Martin Individual Track Pursuit at Rio Paralympics.
Photo Credit: Casey B. Gibson
Shawn Cheshire
Although US Army Veteran Shawn Cheshire is the first visually impaired female athlete to compete on the US Paralympic Nordic Ski Team, she has proven success in summer sports as well.  Also an accomplished Indoor Rower, the Paralympics in Rio marked Shawn's first experience as a Paralympian, where she focused on tandem cycling.  With Mackenzie Woodring as her pilot on the tandem bike, she finished 6th overall out of 17 of the strongest and fastest women's tandems in the world.  She averaged over 27 miles per hour to finish the course in 41:07.76.
-6th Overall, Time Trial B Category
"We rode consistent and smooth…definitely proud of ourselves.  Tomorrow we race a pretty gnarly 90km Road Race…with smiles on our faces!" - Shawn Cheshire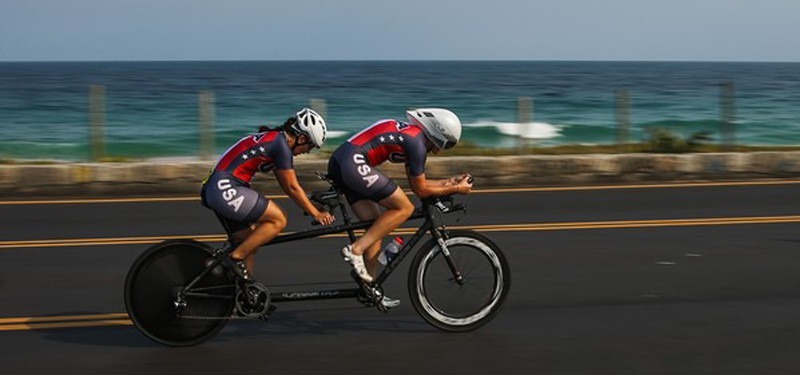 Shawn Cheshire and Pilot Mackenzie Woodring at the Pontal Cycling Road
Photo Credit: Buda Mendes/Getty Images South America
The US Military Endurance Sports (USMES) program, a division of American Servicemembers Amateur Sports Inc. (ASAS), is a non-profit 501(c)3 organization chartered to support amateur athletes, endurance sports education and activities for current, retired, and veteran members of the United States Armed Forces.
To learn more about joining USMES, go to http://usmes.org/
---